Attractions and activities
Under 5s Village
A comprehensive range of staffed activities including two under-fives bouncers, soft play, arts and crafts, activity corner and sand/water play. Hire includes two staff members and all materials, assuming parents are present with their children.
Size: 16m x 16m
Under 5s Village Deluxe
As above with the addition of a third bouncer and a large inflatable surround 30m in width. Optional extras such as entertainers, balloon modelling, music, lights and bubbles are also available on request.
Size: 30m x 16m
Large Covered Soft Play Area
Lots of colourful soft play with matted floor within an inflatable surround. This larger area can be enjoyed by children of all ages.
Size: 7m x 5m
Life Size Car Play Mat
You won't be able to persuade the kids to leave this one as they drive around this life-size carpet car play mat with ride on cars and bikes using their leg power. This area can also be a great tool to help teach road safety awareness to young children in a school or play centre setting.
Size: 10m x 10m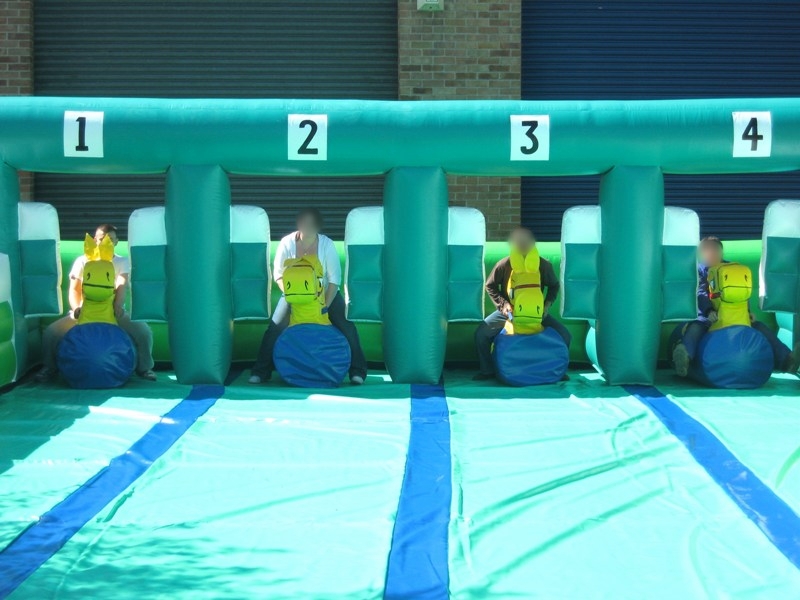 Pony Hoppers Horse Racing
This fun filled 4 player game has contestants race down the track to the winning post. Great fun to play and watching this game is just as hilarious. A guaranteed hit at all types of events. Suitable for ages 6 years to adults. Grass surface required.
Size: 8m x 16m
Crazy Bikes
Modified BMX bikes with off-centered wheels to provide an entertaining ride! Hire includes six bikes and an outdoor course. This equipment requires a grass area of approximately 10m x 20m.
Pedal Karts
Use pedal power to drive around the inflatable race track in karts that can be used by children and adults alike. Burn off some positive energy and have fun.
Size: 10m x 16m
Fairground Stalls
Bring the fun of the fair to your event with a mix of traditional and more modern games including timeless classics such as Hook a Duck, Splat the Rat, Coconut shy and Space Invaders. Test your skills to win a prize (prizes are supplied)
Size: from 2.5m x 2.5m
Climbing Wall
Bring a taste of the great outdoors to your events. Our secure, mobile equipment supplied with qualified instructors and all health & safety equipment.
Size: 6m x 16m
Garden Games
Giant games for everyone. With all the old favourites, you can choose from Connect 4, Jenga, Chess, Snakes & Ladders, Draughts, Quoits and many more. These can be hired out individually or as a se, which is great for tournaments. Suitable for use indoors and out.
Land Train
Sit back and enjoy the ride. Brightly coloured and modelled on a traditional steam train, this favourite seats up to 18 people. A flat surface is required.
Size: 4m x 2m stopping point
Trampolines
Popular with all ages, this six bed trampoline trailer comes with mesh surrounds for safety.
Size: 6m x 7m
Crazy Golf
A great game for all ages. Our crazy golf course can be used indoor or outside and tailored to suit the available space.
Size: 10m x 10m